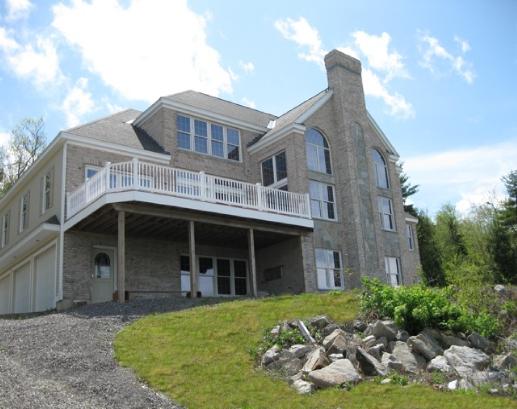 Where to begin my story!?! Since this story is about homes, I will go back to 1986. I worked for New England Digital, the maker of the Synclavier Music System used by world class musicians and audio production experts in film and video. I lived in a rented apartment in Lebanon NH. One late night I was watching one of those No Money Down real estate infomercials. This particular one was by Robert G Allen, and he had just written a book called NO MONEY DOWN. I immediately got excited and bought the book the next day at the Dartmouth Bookstore. I read the book a few times and within 30 days had put in an offer on a colonial duplex near where I lived. It was a great neighborhood and the houe had lots of rooms and a garage. A huge improvement over my 1 bedroom apartment. To make a long story short, I followed some tips in the book and got a the house for a great deal. I ended up living there from 1986 until around 2000.
In the mid 80's I got interested in sailing from a friend, John Arsenault who lived and sailed on Lake Sunapee. He ispired me to find my own sailboat which i did. This boat kept me around the Sunapee area, which led to me buying a condo on the lake.
home | the music | the equipment | the musician | images | photography | highlights | passions | solar pontoon | reviews | future | contact | svend design
The condo was small, had no garage or much storage, but the location was awesome! I rented out my house in Lebanon and enjoyed my time in Sunapee for many years. Although the condo was nice, I yearned for a larger home like I had in Lebanon with more rooms and a garage, but now I had to have a great location and view too! (funny how our expecatations and wants increase over time). One day in January back in 2006, I was looking out my condo window, and I saw and old man splitting wood on some land overlooking Sunapee Harbor. This land was a beautiful spot! I walked up there and talked to the old man and we had a nice talk. His name was Kiano Matilla and was from Finalnd. At the end of our conversation, I asked him if he knew of and land for sale in Sunapee area. He said I could buy the land we were standing on!! I was so excited. I gave him a price, which he agreed too!
Buying this land lead me to start designing some home I might like to build there. I learned so much about home building and costs and "green building" ideas. I went back and forth for a few years trying to decide what I wanted to build.
In the mean time, I bought an apartment building with my brother in Claremont NH, and with the extra income I was making, got thinking about buying my dream boat, a Lagoon 380 Catamaran. I searched the world for a great Lagoon and found one in Texas in 2008. To make another long story short, I bought the boat, sailed it a bit in the gulf and decided now was not the right time in my life to be sailing the oceans. My mom is getting older, and I wanted to be more local to her, etc..etc…
I sold the Lagoon in 2009, and decided I needed another sailboat for NH. After searching high and low, I found one in May of 2009 on craigslist. It was a MacGregor 26M which was an upgraded version of the 26X I used to own. I drove over to Gilford NH to view the boat. The boat was great, and I decided to buy it. On my way out of Gunstoke Acres, where the boat was located, I was driving down Cumberland Drive when I saw a forsale sign for a house for sale. I decided to take a detour and check out what house was for sale. When I got to the end of Briarcliff Road and saw the house that was for sale, I was blown away!! It looked like a castle, was all brick, and had a view to DIE FOR!! I immediately thought… "I can't afford this!" ,,, but being me, I drove up and took a look at the house. As I looked in the windows, I realized the house was not done on the inside! That made me think there was an opportunity here! I called the realtor, and found out more about the house and what the asking price was ($825K). I put in an offer of $600k, got a counter offer, and finally settled in on $695K. After talking to some banks and not getting anywhere, I approached the seller to see if he would do seller financing. He said NO to my original offer! I countered with an offer of $700K for one year. He accepted!! YIPPEE!!! So, on June 19th of 2009, I owned this beautiful home on 86 Briarcliff Road!
Ok… so this is where the story really begins. How do I finish this 6000+ square foot house in less than a year, and refinance my seller financing?!/? – MORE TO COME